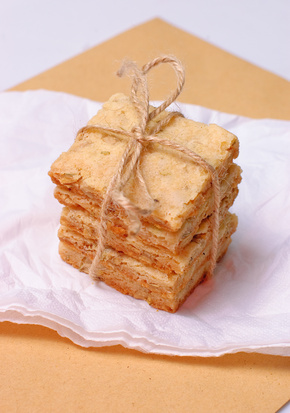 Pumpkins have amazing healthy qualities to them and are so much more than a holiday decoration carved for what many of us enjoy immensely, Halloween.
Pumpkin can help with your dog's digestive system from constipation to diarrhea to urinary health and weight loss.
Carve a pumpkin as a greeting from your dog at the door using these free breed pumpkin carving stencils. And use what would have been waste to bake some healthy treats for your dog too.
Ingredients for Pumpkin Dog Treat Biscuits
Put the insides of the pumpkin you carved into a blender or food processor and blend until smooth.  You can use any part other than the skin as the pumpkin ingredient for these dog treats.  If you are using the flesh of the vegetable cut into small chunks before putting in the blender or food processor.
If you don't have a real pumpkin to use, canned is great, just make sure it is not the pie form which contains sugar and other ingredients not good for your dog.
1 cup pumpkin
3 cups whole wheat flour
1 tablespoon milk
2/3 cup rolled oats
1/3 cup corn meal
2 tablespoons vegetable oil
1 teaspoon baking powder
1 teaspoon cinnamon
1/3 cup water
Mix ingredients. The dough should be thick so add water last and cut back on the amount if your dough is not quite thick enough to roll.  Add flour and/or oats to thicken if dough is not stiff enough to roll.
Roll the dough to about 1/4″ thick.
Cut in squares or use a cookie cutter if you want to be super creative.
Place squares on on a lightly greased cookie sheet.
Bake at 250 degrees for one hour on the middle rack.  They can brown easily so check them often to make sure they are not getting to dark and adjust the temperature.
After 1 hour turn the oven off and let the biscuits stand overnight.
Store at room temperature for a couple of weeks or put in the refrigerator for up to a month.
They make awesome gifts for dog lovers over the holidays and perfect dog training treats with low calories yet high on the healthy scale.
Get more pumpkin dog food + treats recipes here.
Aloha Wags!
Thanks for reading.  My hope is to give you inspiration and thought provoking ideas to take your very next step in creating your best life for you and your dog!  Please Join my Inbox ReVIBE | Dogs + Joy + Vibrance  for more on dogs, natural remedies, recipes and things to do. Follow me on Twitter  and join my dog discussions on G+
Jt Clough lives in Maui, Hawaii and practices health, happiness, natural remedies and training for dogs and their people.  Her uncanny way of communication with both dogs and people is healing and her training is effective physically and emotionally. Her work at ReVIBE | Dogs + Joy + Vibrance is for people looking to live healthier and happier lives through their dogs and her passion for it has helped so many to find and do that thing they've been talking about or wishing to happen for so long. She is a dog whisperer for our best friends and studies natural dog remedies, nutrition and communication. Her latest publications are Treading for Dogs DVD, Pumpkin Dog Food + Treats Recipes and 5K Training Guide | Running with Dogs.