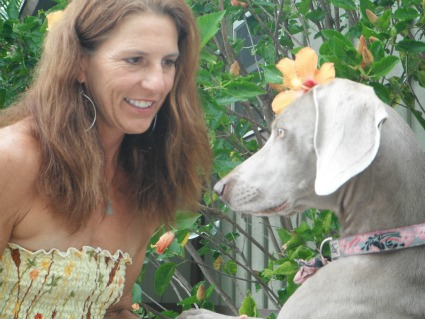 Have you ever heard that the qualities that bother you the most in others are actually those that you don't like about yourself? How about this one; your dog's behavior reflects your own?
Both of those statements are kind of hard to take and usually get the brush off real quick, especially when the behavior isn't that cool and you immediately feel a sense of dislike. In fact many times we find ourselves shaking our head and calling someone silently an idiot, sometimes we don't hold the silence and say it out loud as an automatic reaction.
When it comes to the dog, anxiety or fear aggression of course have nothing to do with you. Nothing. At all.
"Everything that irritates us about others can lead us to a better understanding of ourselves." -Carl Jung
Yes, most of the time, behavior that really disturbs us is in fact a reflection of our own behavior. It is a reflection of the things we cannot stand about ourselves, or things that we have never even admitted out loud to ourselves.
For years I have scene the reflection of dogs and their owners and the behavior that is driving the owner crazy. The frustration comes when owners try to change the behavior of the dog without realizing that there is an underlying reason the behavior keeps appearing. It usually is about themselves. It's usually about a habit.
The other side of that story is people get great success with new behavior in their dog when they realize that a habit needs attention and the that without doing the work, the habit is going to stay the same.
The Note Card Game Naming Idiot Behavior in People and/or Dogs
Recently I've started playing a game that has helped me realize so many things about myself. It has started a wonderful healing process and it has helped me react in a whole new way, a much less judgmental way.
I've been acutely aware of the reflection owners and dogs have had for years. It is why my job is so easy when it comes to training dogs. The realization that the reflections are really about connections to people, our pets, our things, the picture we hold of ourselves in our minds' eye.  It has come clear through the work I have done with all of those dogs and their owners.
You may have read this so far and laughed a little to yourself but still are holding on to the fact that you are just simply not a reflection of your loud mouthed co-worker, or sister, or husband, wife, best friend, or ex BFF. The dog's behavior has nothing to do with your personality, after all the dog is a rescue and came this way. (more on how we attract our friends and dogs in another story)….
Play this game for the next week and see what you learn.
1. Whenever you have a negative thought about someone, even your dog write it on a note card. You may need to put it as a note on your phone app since frequently this happens while out and about. List the person's (dog's) name and short description.
Spend some time every day when you have a chance to sit down and think about the incident and list all the things that make that person or dog seem like an idiot, or at least you don't think is cool to be that way, or in fact is incredibly irritating.
2. Reflect all of the qualities you listed back onto yourself. It is amazing how many of the qualities you write about someone else you actually have yourself. I play the game and quite frankly it blows me away. Things I find awful in someone else I have either played out in my mind, in front of someone else or most certainly in front of my dog.
3. Forgive. Healing does start with forgiving. Once you start playing this game regularly it's much easier to forgive the person or dog about the way they are. Take the energy you would have used being irritated and put it to work on your own reaction. Honestly how we react even in our own head is what kind of person we are.
*note this is also how we can begin new habits with the dog since their language is different than ours it becomes about pictures and what habits we form become the picture of what they should be doing, taking the attention away from what they shouldn't be doing. ** another note, the same thing works astoundingly well with people.
The Note Card game is my own version. One of my new blogger friends Tim McAuley wrote his version of this game in one of his articles: Huge mahalo Tim for adding more thoughts to my ever increasing awareness. Tim has written an awesome book all about reflection call It's All About Me I highly recommend as well. Check out Tim's website and read his amazing insights.
It is a disturbing to think about when it comes right down to it. That person that really bothers you, you are in fact like. Really? Play the game and find out for yourself. I've come to a recent conclusion. We are all in fact connected.
I'm trying to use my connection to reflect as many good things, behaviors, reactions as possible in a day. How about you, where is your attention? Your connection? And are there a lot of "idiots" around you?
Jt Clough lives on the Big Island, Hawaii, and practices health, happiness and natural remedies, while working as a Habits Coach for people looking to live healthier and happier lives.  She is a dog whisperer for our best friends; and studies natural dog remedies, nutrition and communication.  Her latest e-book is How to Swim through Your Fears and Come Out a Champion.