Disaster Preparedness for Our Beloved Dogs and Other Pets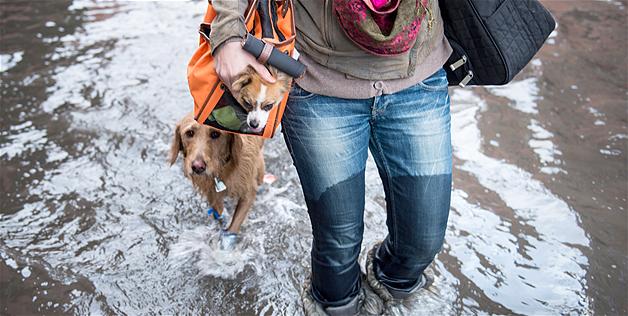 Hurricane Sandy Dog Disaster Preparedness
*photo credit http://now.msn.com/hurricane-sandy-animal-rescues%5B/caption%5D

What kind of natural disaster preparedness have you done for your dog or other beloved pet?

We've just had a bit of a scare here in Maui and the other Hawaiian Islands.  An earthquake near Canada triggered a possible tsunami.  We are all aware of the devastation in Haiti and in Japan, and when the possibility of a tsunami hit here in Maui recently, people evacuated voluntarily.  But how prepared were you?

To our avail, the tsunami didn't hit and we were all safe, but shortly after Hurricane Sandy hit the East Coast and the reminders of natural disaster and the devastation it can cause is real and up front in all of our minds at this point in time.  And yet, have you prepared your natural disaster kit?  For yourself?  For your dog?
Dog Disaster Preparedness
Those of of who live in Hawaii or coastal areas have a heightened reason to prepare for flooding.  When there is a huge ocean that is very powerful without added storm conditions the possibility of water disaster in storm conditions is high.  The first thing you need to prepare for is what to do in case of flood, which should prepare you for other types of natural disaster as well.
Get a large rubbermaid storage bin.  I like the clear type.  When anxiety strikes it makes it much easier to see what you want to grab.  A large bin that seals is excellent for to keep water out and it will allow space to pack your own essentials to should you have a small dog, only one dog or are just super minimalist in what you need!
What to Put in The Dog Disaster Preparedness Bin
Dog food – even if your dog doesn't normally eat canned dog food, in an emergency, especially a water emergency, canned dog food is best.  Since I have time to prepare I get the good kind of canned dog food.  8-12 cans (depending on the size of your dog) is my suggestion.  You can also pack some kibble in a zip lock bags.  Just make sure you rotate it on a regular basis.  I know I'll forget to do that so I stick with the canned dog food and figure I can grab some kibble on my way out if I have time.
Water – this is something you will need for yourself as well, just keep in mind if you have a dog, you need enough to supply your dog with fresh uncontaminated drinking water too.  Water is heavy and hard to pack.  My suggestion here is to get a 3 gallon jug and keep it in your dog bin.  Since water is so very important and can easily be the thing that will keep you and  your dog alive in times of natural disaster, especially flooding where everything ends up contaminated here is the luxury item I would have on hand, in the bin ready to go at all times:  Katadyn Pocket Water Microfilter.  Yes, it is expensive, BUT the one thing I don't want to have to end up in some sort of urban riot in a Walmart or convenience store in time of disaster is the rush to get enough clean water.  Have some bottled water ready to go, and have this item for the possible days of survival you and your dog may be faced with.   *At the very least have these water treatment tabs on hand:  Emergency Water Treatment for Earthquake, Hurricane, Disasters, Survival and Camping, Water Purification 
Dog ID – have current identification tags on your dog.  Include a cell phone since that will be your only way of communication away from home.
Chip Number – keep a copy of your dog's microchip number in the box.  Make sure the microchip company has your current contact information to match your dog with your should you get disconnected from one another.
Current Medical and Vaccination Records – Prepare a file with copies of current medical and vaccination records, your pets' microchip or tattoo numbers, your veterinarian's phone number and address, feeding and medication instructions, and recent pictures of your animals.
Dog Crate – have a dog crate around and ready to go should disaster strike.  Even if you normally don't crate your dog (and no it's not mean and can be very beneficial to many dogs) normally, a crate available to contain your dog during a disaster could mean the difference in getting in a disaster relief center or not.  It can also seriously protect your pet in a time when much is going on, your dog and you are in an entirely new environment and you constant monitoring may be difficult.  I suggest a fold down wire crate.  Easy to transport, stores easily and provides a safe haven for your dog in a time of disaster.
Dog Leashes – Keep an extra dog leash or two or three in your disaster dog preparedness kit.  That way you don't have to look around for your dog's leash and the extras will certainly come in handy for another dog owner in need.
Medications – If your dog takes any special medication it's a good idea to have an extra RX on hand.  Rotate it out every time you refill your dog's RX.  That way you"ll have all you need in one place and you won't have to worry about re-ordering in times of disaster.
Life is a Special Gift to Enjoy Every Day
In light of the recent Hurricane Sandy disaster we are all reminded how precious life and all that we have around us is every single day.  When worries and stress take over, remember all that you do have, your health and your dog's health being on the top of that list.
Pay it forward when you can and make a point of being grateful for all we have right now here in Maui.  For you and for your dog.
Donate to Help Hurricane Sandy Pets
RED CARPET DRESS -FUNDRAISER
Benefiting Betty White's Humane Heroes Club…
helping animals of Hurricane Sandy
Donate to Hurricane Sandy Animal Relief
Jt Clough lives in Maui, Hawaii and practices health, happiness, natural remedies and training for dogs and their people.  Her uncanny way of communication with both dogs and people is healing and her training is effective physically and emotionally. Her work at ReVIBE | Dogs + Joy + Vibrance is for people looking to live healthier and happier lives through their dogs and her passion for it has helped so many to find and do that thing they've been talking about or wishing to happen for so long. She is a dog whisperer for our best friends, specializing in private training and dog retreats, studies natural dog remedies, nutrition and communication. Her latest publications are Pumpkin Dog Food + Treats Recipes and 5K Training Guide | Running with Dogs.