Do you feel like you've tried everything to get your adult dog to quit peeing in the house? *true for puppies too!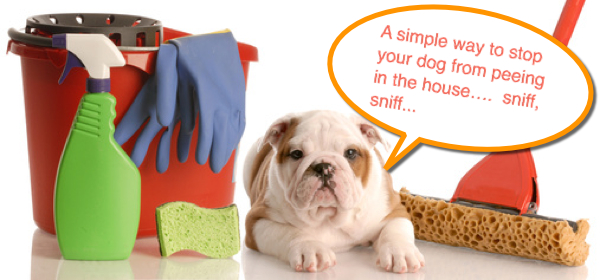 I know you are busy. And it seems like your dog should have clearly gotten the message by now, but there's habit and there's enzymes….
That's why this re-training the peeing in the house issue seems to get away from you.
Even though it's driving your nuts.
Even though its embarrassing to have other people come to your house.
Even though you're sick and tired of listening to the a family member go off about it.
Even though it causes you to be mad at the dog you love so much.
Here's the thing… DON'T MAKE IT TOO HARD.
and… know there is a mistake that 99% of people make I'm going to tell you about even though you do make a solid attempt at the steps you've been told over and over to re-training your dog not to pee in the house.
YOU CAN get your dog to stop peeing in the house and it's really not that hard.

There is indeed a secret to it.
The trouble is most people don't follow a formula that works because they think it's gonna be hard and they have this idea in their head that its not nice to their dog. Or that it's not going to work before you start. Or you've tried everything already and it hasn't worked.
I'm here to tell you that I've been training dogs professionally for over 14 years and these simple steps to retraining your dog not to pee in the house work and you can do them easily. And your dog won't be mad at you!
 I'm also here to tell you that you MUST pay attention to the one thing most people don't do and it has to do with clean up. But we'll talk about that in a minute.
Here's What To Do To Stop Your Dog From Peeing in the House

Take your dog out to your chosen pee spot OFTEN on a leash.
Dogs think and learn in pictures. Show your dog where to go repetitively. Take your dog out:
First thing in the morning
Last thing before you go to bed
Every time you come home
Every time you leave
During potty re-training – do not leave your dog out and about in the house unattended.
Ok, so this is the one people freak on. Yes, crate your dog or put them in an x-pen when you are gone or not paying attention to them.  *Note: this is for a short period of time if you just follow this formula.
It's just like a baby crib and let's face it, you wouldn't leave a baby or small child to roam around without getting into something they shouldn't if you weren't watching would you?
Your dog will get it after repetition of doing it right, but the set up for success in the beginning is important, and then you will be able to let them roam around on their own without peeing in the house.

Make a big flippin deal with treats, petting praise or both when your dog goes in the right place.
No further explanation needed here. We all look for recognition. Your dog totally digs it. Encourage the behavior when they do the right thing.
The mistake 99% of people make in all of the effort of these 3 simple but effective potty training tips to ruin it all.

Cleaning up the mistakes incorrectly.
Seriously. You can do the above steps to a tee and still have your dog peeing in the house if you don't clean up past mistake correctly.
It is a big secret and it is also frustrating because I swear dog trainers create job security by not including this most important factor in re-training your dog not to pee in the house.
Just so you know, I'm not a product person. Really. I think most of the things that we get out of life with ourselves and with our dogs, comes down to what we DO, not something we buy.
However, several years ago when I was training search dogs for scent, I learned this secret and it made me look like an absolute rock star whenever someone called me to help them with potty training of any kind.
Dog pee leaves an enzyme that then names that spot as "the dog bathroom"
Ever deal with your dog stopping at every bush, tree or post to sniff? And often times your dog pees there too, even if it's only a couple of drops?
It's the urine enzyme. And it calls LOUDLY to dogs. PEE HERE!
Until you remove that enzyme from your house, good luck with stopping your dog from peeing there again.
So, here's what you should do to remove that enzyme and get your dog to stop peeing in the house.
Stop adding cleaners or liquid that cover up the smell and get Urine Out which in fact removes the enzyme, the stain, and the silent announcement to your dog that says, "The dog bathroom is here!"