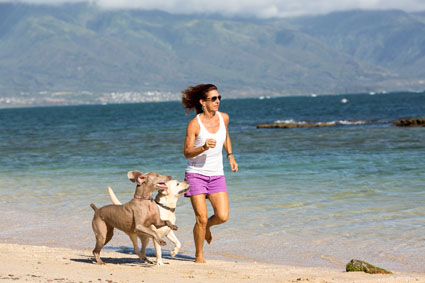 I am Jt Clough and I live in Maui, Hawaii.
My Maui Dog Training teaching centers around how our dogs reflect our behavior, how we reflect their behavior and how we can change the outcome of our day by the way we choose to do things and the way we communicate or show our dogs how to do things, rather than the negative thoughts that have been such a habit we don't even think about but keep practicing automatically.
My writing, offerings and trainings are for those of you who want to ReVIBE the life of your dog as well as your own life.  Please subscribe to receive more of my writing on how to meet your needs/your dogs needs and get more of what you've wanted out of life with your dog.
I work with a people and dogs one on one, sometimes together, sometime separately.  If you are interested in Maui Dog Retreats or Boarding Staycations simply send a message to my inbox or call 808-936-4388.  I read and respond to all my requests.
I practice health, happiness and natural remedies, I have finished 9 Ironman triathlons, I am an author, dog whisperer, and I coach people to live happier lives doing more of the thing they want through ReVIBE | Dogs + Joy + Vibrance. and professional dog trainers how to make their dream living through ReVIBE | Dog Trainer Life + Business + Wag Time.
I have a way with dogs, but more importantly have an ability to teach people how dogs think and learn leading to great success in all of my dog training programs.
I inspire people to do that thing that they keep talking about doing through the playful eyes of dogs.

And I inspire professional dog trainers to leave the struggle of making it too hard to create a dog training business that rocks.
Dog nutrition and healthy dog food and treat choices have become one of my most important messages.  We love our dogs as our best friends and family members. Our dog's lives are being shortened with the same exact meal every morning and every night that has little to no nutritional value in it, plus a few chemicals and toxins you wouldn't consciously really feed your dog if you knew.
I coach people to better dog behavior and dog natural remedies, food and treat choices.  I also train dogs and then show their owners how to maintain it.
ReVIBE | Dogs + Joy + Vibrance
My trainings include: Dog Training Retreats, Private Dog Training, Dog Natural Remedies and Nourishment as a way to a well behaved happy, healthy dog.
Be open to possibility.
Let go of making it hard.
Let go of not letting it happen.
Let go of I have to struggle.
Be open to the possibility it can be easy and fun.
Get exactly what you need!
ReVIBE | Dog Trainer Life + Business + Wag Time
Like you, I love training dogs.  I had a large dog training business in San Diego I walked away from, moved to the Hawaiian Island and started all over again.  9 months in all is going well.  During the time I spent rebuilding, and through my time I spend coaching other professional dog trainers to build their businesses I found that there is something missing for most that I figured out how to do and to teach:
•YOU DON'T HAVE TO MAKE THIS HARD
•YOU DON'T HAVE TOMAKE THIS A STRUGGLE
I like to break the rules and I've spent years with mentors who have taught that when you find the right Posse… and you learn how to get in the right mindset by listening to the right people…. you can have a fulfilling abundant lifestyle training dogs.
 I work with professional dog trainers and those who would like to become professional dog trainers on building a successful fulfilling business that includes your passion and leaves you with time to spend with your own dogs.  Please subscribe below if you are ready to make your dog training business enjoyable,  an extension of your own artistic self, sustainable and fulfilling. 
ReVIBE | Dog Trainer Life + Business + Wag Time
"
I've know Jt for many years. We've run the full gamut in the course of our relationship, from being professional colleagues and business partners, to being a mentor and friend. Through all these years she has continually helped me step into my better self and reach new levels of awareness. Her never ending commitment to go beyond the comfort zone in search of personal and spiritual growth continues to be a source of inspiration. Her ability to teach those small changes that make a great impact is second to none. I feel honored to call her my friend and would recommend to anyone take up the opportunity to work with her."
~Robin MacFarlane, That's My Dog