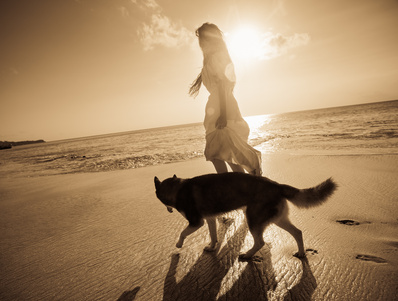 How would your life, your work, your dating life, your relationship with your husband, wife or children change if you could get a little surge of oxytocin whenever you wanted?
WHAT? Is that some sort of illegal drug and what does it have to do with my dog?
NO. It's not an illegal drug.
It's a hormone, one that is known to clear up anxiety, deal with stress, make you feel good; it creates bonding that rocks. It's a thing that if you could put in pill form, people would be clearing the shelves, buying enough to not run out. Ever.
What Does Ocytocin and Running With Your Dog Have To Do With One Another?
Connection releases oxytocin. Real connection. And our dogs are one of the easiest things to start connecting with. They have no judgements, they are just simply happy to be with you.
Combine getting outdoors and a little exercise and you're golden. Oxytocin galore.

Running just 15 minutes 3-5 times a week could make all the difference in the world on how you feel. And let me just tell you, your dog's life will change dramatically. For the good.
How To Start Running With Your Dog
Heading out the door with your dog ready to put a 5 miler in when you haven't been running in a very long time, or maybe you've never been a runner, isn't a very good idea.
Just sayin…
And then there's that thing about how to get your dog to run nicely on a leash when they haven't done it before.

The best way to start is to experiment with some easy running drills in a field, park or for those who actually get to live in Maui, the beach to start. It's good for more than a few reasons.
One good reason when it comes to training your dog to run with you is you can run a short distance, then turn and go in another direction, many times. It is a great help in teaching your dog to stay by your side, rather than pull ahead.
Dogs do what works for them or what you let them get away with. If you let them pull ahead, they will. If you let them drag behind, they will. It's only a game for them, they just don't know the rules.
Once your define the rules by requiring your dog follow you closely in expectation of a direction change, it becomes clear. This running thing means to hang by you and follow every move you make!
Another good reason to start running with dogs using these steps is it takes the idea that it's a huge undertaking away.
Start with running back and forth in a park, field, beach or open space. Make it 10 or 15 minutes. Done. It won't be long and the movement, the fresh air, the quality time spent with your dog and the oxytocin release will have you wanting to up your time and distance to get more of a good thing!
Seriously.
You'll be ready to move on to longer sustained running sessions on a trail, road or on the beach and you'll both be stoked about it.

You'll hydrate more. Drinking 8 glasses of water is the recommended staple to stay hydrated. No one does it. Or very few people.
Also true, dogs may have water out available but most dogs don't drink enough on their own. Add a run session in and your dog will naturally drink more. You should however, make water available all the time and encourage your dog to drink after every single run session you have together.
So… I'd like to make this really easy for you so that you can have the life you love with your dog by your side.
GO DO IT. And if you have questions put them in the comments below. I'd love to answer them. The fact that you are here now indicates to me that you are committed to have that oxytocin feeling all the time!
7 Ways Your Dog is Better Than Therapy and WAY More Effective
Click the button below and get started today.
Visit Maui Dog Remedies's profile on Pinterest.
Oh and don't forget to join #playeveryday on Instagram and the 
Facebook Page with more quick updates you don't want to miss…
Like this post? Share It!