July 5, 2012 Big Island Dog Beach Shack opened up!
Me and my dog Zelda opened up our dog training + natural remedies + dog themed jewelry store in Kailua Kona Hawaii at the Alii Gardens Marketplace.

We've been working on our remedies from our tropical home and connecting with people online and that's been great. In fact I look forward to more of that. But Zelda and me needed to find a place where we could meet more dogs and their people… so here it is and we can't wait for you to come and see us.
This month we've got a Dog Food Cooking Class on July 21. Come and check it out. More details on that later or, come join our inbox at ReVIBE | Dogs + Joy + Vibrance and get all the details.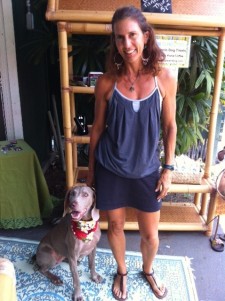 Come kickstart your health and fitness program with K9 Cross Fitness or have some fun at a dog friendly marketplace in Kailua Kona with Dog Trick Training.
Come see our dog themed jewelry by Hawaii artist Barbara Hanson.
Come meet Zelda being her beautiful Weimaraner self as my partner at the store.
We'll be happy to give you all kinds of tips on itching, scratching and licking and how dogs just want to be nourished with some good home made food and little coconut oil to top it off!
Aloha sandy wags,
Zelda & Jt