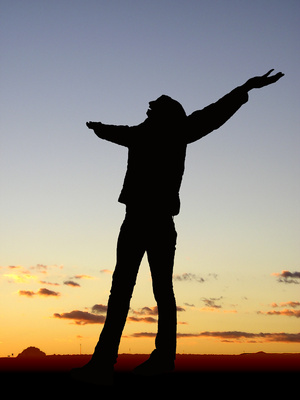 What you do, think and feel first thing in the morning is a good indication of the way the rest of your day will in fact transpire.
For years I ignored this essential fact and let every morning just happen in its own way, usually leading me down a subconscious path I really didn't want to travel, starting with a bunch of junk e-mail and the noise of Facebook!
I know it may sound simplistic but think about the way a dog gets up in the morning and their intent for the day.
First thing, a big stretch waking up their body with gentle movement.
Next thing. Wag. Happy for the next moment whatever it might be.
Run around a little bit getting warmed up for all the great things that are going to happen today. No expectations. Just looking forward to it all.
Eat a simple breakfast. Not too much. Hopefully a holistic variety, though dogs are usually happy about whatever comes there way.
With the bliss of a dog's life as a model here are 4 things you can do to drastically improve your every day happiness quotient.
Practice Yoga or Simply Stretch
This is one you can easily end up with the excuse, "I'll do it after I get the chance to go to 3 more yoga classes."  What you do everyday counts so start with 10 minutes a morning and soon you'll find it is a habit.
Meditate, Affirmations, Say What You Want
Self talk is a huge part of what shapes every day.  What goes on in your head is what ends up coming to fruition in a physical way throughout your day, week, month and years.  The average person has 60,000 thoughts per day and studies show that of these more than 80% are negative.
With that in mind start thinking about what you really want more of.
Say what you want for the day out loud.
Start with your 3 top things: about your life, about your passion, about your livelihood.
Practice imagining 6 impossible things before breakfast.
Exercise
Bleh.  A word that has come to be known with a negative connotation.  Why has this one come to be such a huge problem?
In my experience working with those who have decided to take the next step and get to where they want to be from where they are now, exercise has become fun through making it a game and using things you already have available to you.  Make it simple.  Make it easy.
If you are a dog owner this is a great time to develop an awesome relationship with your dog that follow the simple guidelines of fun and easy. Find a 5K fun run and sign up for it.  There are tons of dog friendly races out there these days as well.
Eat a Healthy Breakfast
Another duh…. you've heard this one before. I know I know. BUT again, get some fresh ideas of what to eat and it becomes easier. Buy only the foods for a healthy recipe and that will also become your default choice. It's the only thing you have in the house.
Make everything simple.  We have too much stuff in our lives.  One shopping bag out of the grocery store.  That's it.  No room for junk.
Thanks for reading. If you liked this post, please subscribe to Big Island Dog and follow me on twitter, Facebook and Google+