Maui Dogs | My Most Favorite Of All Time In The History of Ever
Favorite things in the world. We all have them. Most of us don't celebrate them enough. Unless of course you have "that dog" in your life.
Many times no matter what is going on, that certain dog in our lives constitutes, "My Most Favorite of All Time In The History of Ever."
I'm called upon a lot for two things:  Dog behavior and dog health. What to feed? What's the healthiest thing that could possibly make my dog live longer? How much and what kind of exercise could lengthen my dogs life? Those kinds of things. Which I truly love answering and being helpful for people and their dogs.
Sure, behavior can be a problem. But let's face it. We all got issues! And sometimes quite honestly the dog's issues are really our own issues. But what are we really worried about in life?
What quality of life do we have?
How happy are we day to day?
How long are we going to live?
Is this all there is?
Things to Add To Most Favorite Of All Time Daily List

Life is short. In the last couple of weeks I've had two really cool people I know diagnosed with cancer. Another dog, a Chocolate Lab went to rest forever, hopefully in some dog wonderland. He had cancer too, and he leaves behind a Dude that loved him dearly.
So, make it a commitment.
Do your most favorite things as often as possible
Be with your most favorite people as often as possible
And spend as much time with your most favorite dogs as often as possible
Exercise as often as possible
Eat whole food as often as possible
And love yourself all the time
And of course love your dog
Drink water… and sometimes wine… laugh, enjoy, live every moment to it's fullest as often as possible
Be grateful for your health and every little thing you have
Do you ever tell your dog, "I love you more than anything ever?"
There's a reason. Its called unconditional love. Acceptance. Do that for yourself too. Its the hugest lesson ever you can get from your dog.
Get 17 Things Maui Dog People Should Know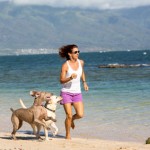 Jt Clough lives in Maui, Hawaii and practices health, happiness, natural remedies and training for dogs and their people. Her work at Maui Dog Remedies is for people looking to live healthier and happier lives through their dogs and her passion for it has helped so many to find and do that thing they've been talking about or wishing to happen for so long. She is a dog whisperer for our best friends. Her latest publications are Pumpkin Dog Food + Treats Recipes and 5K Training Guide | Running with Dogs.
Like this? Share it!