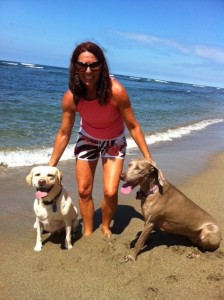 Class Schedule – K9 Cross Fitness | Urban Agility | Trick Training
Sign up to get weekly updates on when and where class will be held.  You can come sometimes, come all the time, whichever fits your own weekly schedule.  Over my years of training I have found the 8 week series simply does not work.  However, like an on going yoga class, you'll come and get benefit when you can.  Better than doing nothing.  And I've also found that people come more when they don't HAVE to be there or they lose what they paid.
Just $10 per class!
Enter your name and e-mail address for day/location and class information K9 Cross Fitness Class | Urban Agility | Trick Training.  $10 can be paid at the beginning of class or through Big Island Dog Paypal.
*New in July:  Dog Food Cooking Class
July 22, 2012 1 pm.  Add nourishment to your dog's diet and stop the itching, scratching, licking madness.  This class is at Alii Gardens Marketplace in Kailua Kona Hawaii but if you aren't lucky enough to be on the Big Island, you can sign up here and get the class on video!  Questions:  click on contact, e-mail your question and I'll get right back to you.
Who This is For
+This is for you if you have a dog you want to spend time with.
+This is for you if you want some help with your dog while out and about but are not into signing up for an 8 week series of classes you have to be at every week.  Come when you can by signing up on a week to week basis.
+This is for you if want to come when you can and get some exercise for you and your dog.
+This is for you if have been looking for something fun for your dog to do in Kailua Kona.
+This is for you if you need some help with knowing how to train your dog to  _______.  Yes, fill in the blank.  Your "how would I" will be answered.
+You want to just have some good play time tricks with your dog, engage, stimulate the mind and the body from both ends of the leash.
+You want to show off your dog to your friends and family with some cool little tricks.
+This is for you if you have always wanted to do agility with your dog but found the rules too stringent, the class series one you can't make half the time, found it too difficult or too many rules, your goal is not to compete but have something fun to do with your dog (that's the urban part!).
+This is for you if you have flunked out of a basic training class!
+This is for you if your dog was too advanced for the basic training class (or maybe you were!)
+This is for you if you are looking for some social aspect for you and your dog on The Big Island.
Classes will be held on trails or parks and will be combination of moving, balancing, urban agility and other strength building movements while teaching your dog to walk, wait or stay and even a trick or two along the way. *Classes will be adapted in line with where you and your dog are now so don't worry if you are just starting or already have a base.  This class is for you and your dog.  Get out and have some fun with your dog now!
Contact me at 808-936-4388 with questions or would like to request alternative class times.
*Please fill form at the bottom of the page if you are interested in more information on times, places and class benefits.  These classes are designed for the convenience of you and your dog and can be tailored to obedience, tricks, fitness or fun depending on your needs.
What is K9 Cross Fitness and How Will It Train Your Dog?

K9 Cross Fitness was created as a cool thing to do with your dog if you are on the Kona side of the Big Island.  Dog training, from teaching new tricks to training for bad behavior all share a common link to the answer about how to change behavior or become a good dog.
I've often found that people spend lots of time researching how to fix "bad dog behavior".  Instead of fixing it, replace it with good behavior.  Once you stop focusing on the bad and make the choice to do something with your dog, you can start to enjoy the good life with your dog.
By taking action instead of searching for solutions, you will feel better and so will your dog.
For those who already have well behaved dogs, and are looking for more things to get out and do with your dog, K9 Cross Fitness is the perfect place for you to engage in something fun with your furry best friend.
Personal Training Sessions
If you have other questions regarding your dog, and feel you'd like to work one one, please contact me.  You can see the many things I do with dogs at SitK9Sit.com   I coach and train in Kailua Kona Hawaii. If you are outside the area I have MANY very satisfied Skype clients. It's me coaching you what to do, and how your dog thinks and learns that makes the difference in a happy, healthy, fun relationship with your dog.