Why buy the Pumpkin Dog Food & Treats Recipe Book?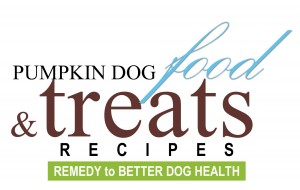 Our dogs are literally dying from the treats and food we have been wrongly convinced by marketing and big manufacturers is good for our dogs.  Commercial treats disguised as natural, or even made in the USA when there are ingredients from China in them are killing our dogs.
Get a free report on what brand names to absolutely avoid, what to buy or feed your dog for health and vibrance, and what exactly are many of the commercial dog  food/treat companies putting in products. 
Commercial Dog Treats and the Negative Impact That They Can Have on Pets  *Note your report download will be in an e-mail after your subscription confirmation e-mail. Please check your e-mail again once you have confirmed your subscription to the report.  Just want to make sure you really want the information on commercial dog treats and how they are harming dogs.
*This report contains a list of brands to avoid.


Despite that recently there have been 900 dog deaths caused by these commercial treats and  52,000 consumers urge Walgreens to take dog treats off of the shelves, the very treats that are killing our beloved dogs are still on the shelves of many stores selling pet products.  People are buying them and feeding them to their dogs without knowing.
The dog treat remedy?
First, spread the word!  Once you know about the dangers of these commercial dog treats tell other dog owners by forwarding this page on to them.  Don't let them feed "natural" dog treats to their dog and end up with the devastation of a really sick dog, or even a dead dog.
Then start making your treats or buying dog treats from independent people who make their own whole foods, no preservatives, really good for your dog super food and treats.
Making Home Made Pumpkin Dog Food + Treats insures:
Wholesome treats using ingredients you would eat yourself.
Pumpkin + coconut oil have anti bacterial, anti fungal, anti parasitic properties
Recipes are designed to help stop the itching, scratching, licking madness.
Easy to make.
Cook  for your dog, you'll cook more for you.  Everyone is healthier.
One time digital purchase, receive updates with new recipes for years, no charge.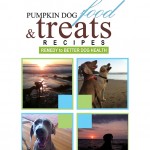 Pumpkin Dog Food + Treats Recipes was written as a remedy to itching scratching and licking for dogs. Pumpkin and coconut oil are recipe staples with healing properties.
Why I Wrote this Dog Food + Treat Recipe Guide
I created this dog food + treat recipe book out of my study of dog health and as it turns out the saying, "You are what you eat" applies to dogs too.
Most dogs these days are only eating kibble or commercial treats. Processed food. McDoggie style!
We need to begin introducing real food into our dogs' diets if we hope they will live long healthy lives.  The same really goes for people.  This ebook will give you motivation for both you and your dog and you'll have a lot more fun during mealtime.
*Bonus  Those that have started making home made dog treats find themselves eating a lot more healthy real food as well.
Another great reason to buy Pumpkin Dog Food + Treats Recipes
This is a digital download and created as a living document which means every time I add a recipe or an update to it, you receive the new version for free. Even better than buying a book that can become outdated and doesn't offer you ongoing updates and new recipes!
What's special about the ingredients?  What makes these treats act as a natural remedy?
Pumpkin and coconut oil are in every recipe. Good for digestion, but more so the anti bacterial, anti fungal, anti parasitic properties are a huge help to any dog's health and wellness.
Most recipes included are also gluten free.
Make these recipes and treats as supplements to your dog's diet and know your dog is getting real nutrition. *note these recipes are meant as treats and an addition to your dog's diet. Feeding a whole food diet does require some supplements that can be added with food on a full time bases.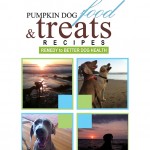 If you'd like to know more about how to cook for your dog and include all the right minerals and vitamins Join my Inbox ReVIBE | Dogs + Joy + Vibrance


These recipes make great gifts for other dog lovers.
But mainly your own dog will LOVE the new good for them treats.
You can know you are giving your dog real food with real nutrition with no chance of the toxic chemicals and additives that keep showing up in dog food + treats recalls.  These recalled foods are killing dogs.  In fact in May of 2012 the biggest recall of premium dog foods + treats occurred.
I love my dogs Carmella and Emmy and this recipe book is dedicated to them.
I love my clients' dogs and I want them all to live healthy, happy. long lives. I want that for your dog too!
As always if you have any questions please feel free to contact me.
Aloha wags!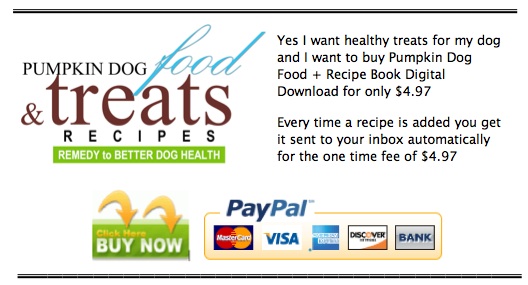 *note this is a digital download and you will receive your download once your order has processed. You'll also receive updates every time I add to the book. *The beauty of a digital work is I can make it interactive and new as I add information. No need to buy a whole new book!
Jt Clough lives in Maui, Hawaii and practices health, happiness, natural remedies and training for dogs and their people.  Her uncanny way of communication with both dogs and people is healing and her training is effective physically and emotionally. Her work at ReVIBE | Dogs + Joy + Vibrance is for people looking to live healthier and happier lives through their dogs and her passion for it has helped so many to find and do that thing they've been talking about or wishing to happen for so long. She is a dog whisperer for our best friends and studies natural dog remedies, nutrition and communication. Her latest publications are Treading for Dogs DVD, Pumpkin Dog Food + Treats Recipes and 5K Training Guide | Running with Dogs.