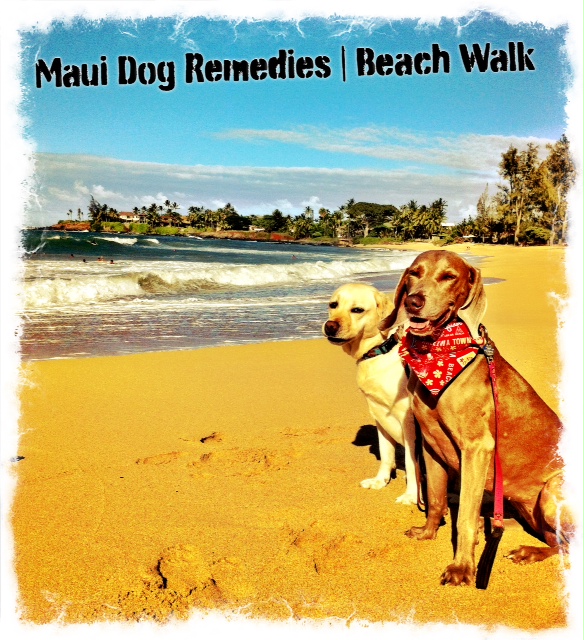 Maui Dog Remedies has arrived here in Maui ready to provide professional dog training, dog walking, dog sitting and natural remedies for this very dog friendly island.
Our dogs have become beloved family members. Through my years of dog training I have found that people need to have their own needs met through their dogs. The frustration of not knowing how to communicate in a way our dogs fully understand is where I have helped so many to go from a good relationship with their dog, (and others around them) to a great relationship.
Dog Training
Understanding the environmental situations that cause owners to misread their dogs, cuing them to react in ways they did not intend enables me to teach successful canine communication skills for people and their dogs.
Running with Dogs
As the author of 5K Training Guide | Running with Dogs and a 9 time Ironman finisher, I have always incorporated exercise into my dog training practices. Dogs require movement and can actually slumber into a sort of dog depression without it. Unwanted behavior in many cases is solved with the addition of exercise.
I'm also really good at listening to my clients. The one common thread is they want their dog to be trained better but lack the time, and sometimes the knowledge to get it done. I've designed my running with dogs program to train your dog and get the exercise they desperately need at the same time.
The programs are tailored to you and your dog's needs, which means I run/train your dog mostly and then show you. Or if you'd like a coach to get you running with your dog we do that too. Either way your dog gets trained and lives a happier healthier life.  This same program also applies to walking if that is you and your dog's gig.
I love running and training dogs and can't wait to meet yours
Dog Walking
These same skills carry through to walking dogs. Dogs need physical activity. They need exercise. They need some sort of stimulation other than sitting and waiting for their person to come home week after week, even though they are beyond stoked and very thankful to see you when you do arrive. Maui Dog Remedies developed a different kind of dog walking service.
When I created the dog walking and dog sitting services, I dug deep and thought about the goals, desires and aspirations people are looking for in creating a life where their dog is well taken care of even in the midst of a busy life that can't always include them.
You can read more about me, Jt Clough on my K9 Coach website.
K9 Coach started in San Diego 15 years ago. It turned it a large dog training practice. Even after 2 years of recently living on the Big Island, I still have clients call and want my help as a referral from someone I worked with years ago. Bringing my experience from San Diego, the Big Island and many training workshops and classes I have taught to other professional trainers, my intent is to have Maui Dog Remedies the best go to place for all things dog on the Island.
I welcome your questions and hope to meet you and your dog soon!
Aloha wags!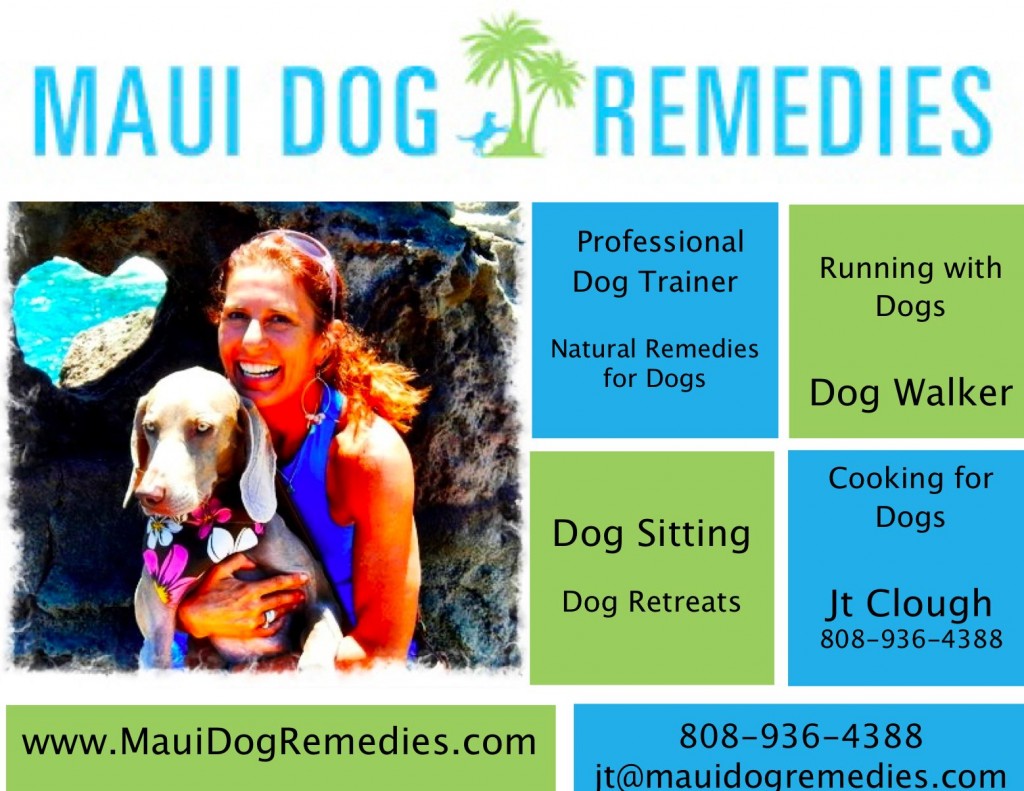 Jt Clough lives in Maui, Hawaii and practices health, happiness, natural remedies and training for dogs and their people.  Her uncanny way of communication with both dogs and people is healing and her training is effective physically and emotionally. Her work at ReVIBE | Dogs + Joy + Vibrance is for people looking to live healthier and happier lives through their dogs and her passion for it has helped so many to find and do that thing they've been talking about or wishing to happen for so long. She is a dog whisperer for our best friends and studies natural dog remedies, nutrition and communication. Her latest publications are Pumpkin Dog Food + Treats Recipes and 5K Training Guide | Running with Dogs.